Latest News
---
Carleton Equipment's Annual Customer Christmas Party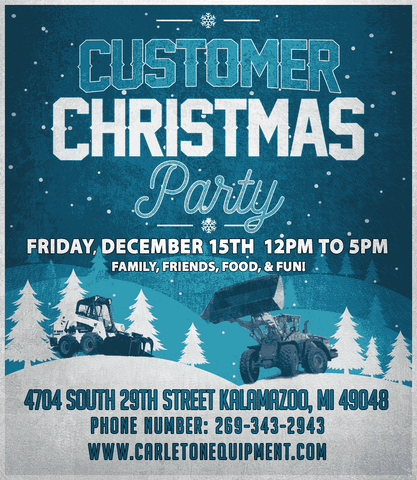 Doosan DL200-5 SALES SPECIAL





Carleton Equipment's Christmas Party!




Chesterfield Location will Host Demo Day / Pig Roast on August 17, 2016
Current and Potential Customers are invited to join our Motor City East Staff for this great event! Live product demos and great food will be provided. Sales, Service, Parts and Rental Staff will all be available to answer questions for you and your team. We hope to see you in Chesterfield on the 17th!
April 1, 2015: Rick Scheidel and Chris Koontz join Carleton Equipment Sales Staff.
Carleton Equipment is excited to announce the addition of Rick Scheidel to our Bobcat of Grand Rapids Family. Rick has significant equipment sales experience and he will be covering Greater Grand Rapids area, east of US-131. In addition, Chris Koontz has joined Carleton Equipment at their Bobcat of Motor City location in Livonia, Michigan. Chris has significant experience in the landscape industry and owned his own firm for over 11 years. Chris will cover Western Oakland County. Rick and Chris join a professional sales staff that boasts 13 sales representatives with over 175 years of combined industry knowledge. Contact us and see the Carleton Equipment Difference.
September 30, 2014: Ryan Barratt joins Carleton Equipment Sales Staff.
Carleton Equipment is proud to announce the addition of Ryan Barratt as a Territory Manager in Metro Detroit. Ryan previously worked in our Parts Division and several other divisions within the company where he obtained a firm understanding about our products and our customers. He is a graduate of Eastern Michigan University with a degree in Business Administration. Ryan will sell and promote the Bobcat Equipment line for Carleton Equipment. He resides in Plymouth, Michigan with his family.
JULY 24, 2014: Carleton Equipment Company adds Stumper Industry line of products.
Carleton Equipment Company is proud to announce that it has been named the distributor for the entire line of Stumper Industries products. Carleton Equipment will carry the products at all 5 of their Michigan locations. Stumper Industries is located in Calumet, Michigan and provides an innovative solution for stump removal that is both economical and efficient. "After testing these products we were sold on the design, durability and value. We believe that the Stumper line will provide an enhanced solution to our customers," said Steve Wurtzel, Director of Dealership Operations and Development. For more information please visit the Carleton Equipment Facebook page and view the Stumper demo video. www.carletonequipment.com
JANUARY 2, 2014: Carleton Equipment Opens Fifth Location.
Carleton Equipment Company is proud to announce the opening of its fifth branch location. The branch is referred to as, "Motor City East" and offers parts, service, sales and rentals. Located on Gratiot Avenue between 21 and 22 Mile, Carleton Equipment's newest branch is situated on a spacious lot and boasts a  5,000 ft. showroom that the company has designed using its "Brand Orange" initiative in order to promote their Bobcat and Doosan Product lines.
"We are excited to have a presence on the east side of Metro Detroit" said Steve Wurtzel, Director of Dealership Operations for Carleton Equipment. "Having two Metro Detroit locations was in our five year plan since entering this market place in 2009 and we are proud to be on pace so that we can better serve our extremely loyal customer base as well as all of the new customers that will be exposed to our products and service." Wurtzel continues, "this new facility continues to set the tone for our future growth and our plans to provide customers with a top notch dealership experience."  
Carleton Equipment Company is a family-owned and operated business founded and grounded in Michigan since 1938. For more information, please visit www.carletonequipment.com.